*This post may contain affiliate links. As an Amazon Associate we earn from qualifying purchases.
With the increasing prevalence of food trends, there are more bar mitzvah food options than ever before. Whether you want to stick with traditional food, or you want to try out new trends, there are many ways to create the perfect menu.
Some of the current bar mitzvah food trends include cupcake towers, ice cream stations, mocktails, candy buffets, chocolate fondue fountains, mini-foods, and even food trucks. While the modern food ideas are fun and trending, there are many Jewish meals that appeal to everyone, Jewish or not, and a mix of both tradition and trend is a great option.
In this article, we will talk about some of the newest food trends and then follow up with several mouth-watering typical Jewish foods that will please everyone while honoring your Hebrew heritage. The mix of the old and the new is typically the most favored way to plan.
Trending Bar Mitzvah Food
When you are ready to plan your bar mitzvah menu, the first thing you will notice is how modernized the traditional bar mitzvah is becoming. Change isn't necessarily a bad thing, and a lot of people have perfected the art of combining the old with the new, for a unique experience.
One of the most common forces in the bar mitzvah world is the emphasis on personalization. The best bar mitzvah menus, the ones talked about long after they are over, are the ones that bring the unique aspects of the child into the food. There are many festive ways to celebrate a child coming of age, and the personalization food trend aims to please.
Here are four of the most popular trending bar mitzvah food themes.
Food Trucks, Carts, or Stands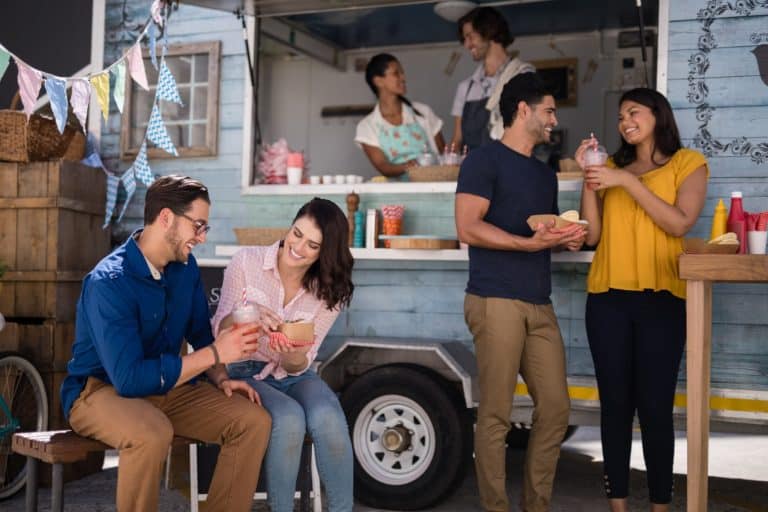 Food trucks have taken the world by storm, in and outside of the Jewish community. For almost every food or drink you can think of, there is a food truck out there that specializes in that specific delicacy. Food trucks have become popular in the bar mitzvah world because it is a way to bring your child's favorite food to the party in an exceptional way, while oftentimes saving money!
In keeping with the food truck theme, there is also a trend to have food carts or stands representing the child's favorite branded foods. Whether it is a Dunkin' Donuts bar or a hot dog cart, many families have been adding these food carts, trucks, and stands to bar mitzvahs for a fun way to celebrate with the child's favorite food.
Add an additional touch by personalizing the containers or bags that the food is served in with a custom sticker or cocktail napkins.
Personalization in Food
Similar to the food truck idea, personalization is such a strong force right now, and it has caused a drastic change in the catering trends for bar mitzvahs. All children are different from their peers in some way, especially right around the time they are coming of age. It is prevalent right now for parents to showcase their child's style, taste, creativity, and culture in the bar mitzvah menu.
Some parents choose to highlight their child's palette by adding a creative spin to their favorite meal while others apply a culinary theme to the menu. Whether you stick with typical Jewish food or you go a different route, personalization can be a healthy mix of traditional Jewish food, as well as non-Jewish food.
For example, if your child loves sushi, create a special station with a sushi chef with a sign that reads, "Sam's Sushi Bar" or naming a specialty roll after your child, "The Rachael Roll".
Mini-Tasting Menus
Another common theme of bar mitzvah food is with mini foods. Designed to represent the child's favorite foods in small bites, mini-tasting menu's give guests the option to try many different types of food in little bites, so they can sample more things and do so without feeling guilty.
Some of the usual mini items you may see are mini sliders, donuts, tacos, and shakes for the kids. If you decide to go with this theme idea, you can implement your child's favorite flavors, colors, and design choices into the mix.
Themed Stations
While bar mitzvahs are a long-standing tradition, many parents are seeing a need to intermix old and new because they recognize that their children are changing. Formalities are changing and parents who want to keep up the tradition, while also honoring their child, often find themselves creating a bar mitzvah that is unique to their own child and family, and different from any bar mitzvah they have attended before.
One-way parents are adding more fun to bar mitzvahs is in creating themed stations for the party guests. Some of the most common stations include mocktail bars, build your own dinner or dessert stations, and candy tables.
Mocktail bars are very popular right now. The bar is usually made up with a signature drink that represents the child in color, style, or hobby, and then several other drinks for the guests to enjoy. Mocktail bars serve non-alcoholic drinks which makes it fun for adults and kids alike.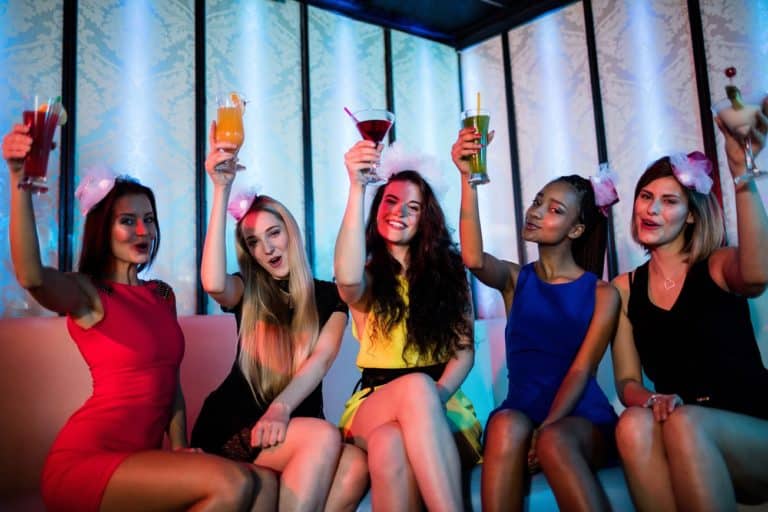 DIY food and dessert tables are also trending. Whether people design their own dinner, pick their own herbs, or choose their toppings, build-your-own tables are fun for kids and enjoyable for adults as well.
Candy tables have been making appearances over the last several years, giving people the option to fill up bags of candy to take home as their thank-you gift. Candy tables can be made festive and bright, and filled with the sweets that the child loves.
Another fun option is to create stations throughout the room with different food varieties such as Mexican, Italian, Salad Bar, or Israeli. This gets your guests up and walking around the entire room and a lot of choices. No guest will go home hungry!
Traditional Bar Mitzvah Food
If you want to go with a trendy and personalized bar mitzvah, traditional bar mitzvah food can be incorporated into the experience as much or as little as you want. Here is a list of several of the most popular Jewish foods that can be served traditionally or in the form of stations, tables, as mini's, or even in food trucks, carts or stands.
Bagel Bar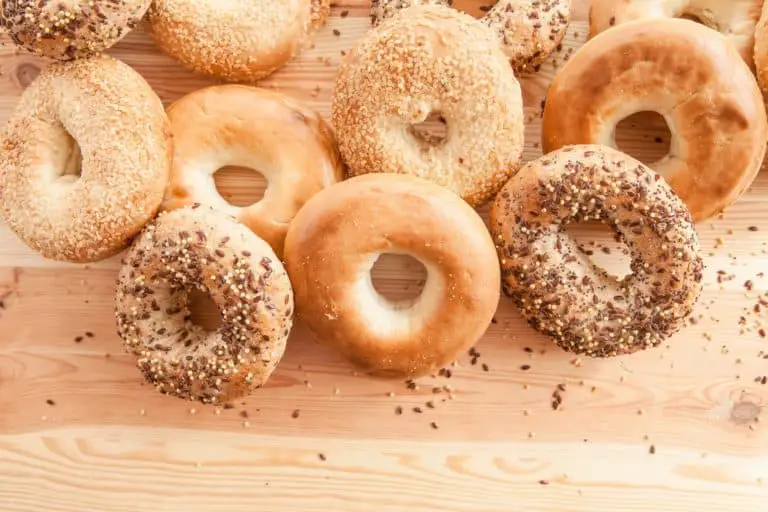 If you like the idea of stations but want to serve more traditional Jewish food, having a bagel bar is a good idea. You can fill the bar with whitefish, dill, capers, lox, red onion, several schmear choices, and several different types of bagels. Not only will it be a big hit, but it is also fun.
Meat Table
If you want to serve several different types of meat and also keep with the stations or food bar idea, you can set up a table with several different types of meat on it, or you can serve mini versions, in individual cups or small plates. Here are a few of the meats you may want to serve:
Chopped liver,
Pastrami on rye,
Braised brisket, and/or
Medium-rare roast beef.
There are many ways you can serve meat that will appeal to most, if not all, of your party guests.
Mini-Appetizers
If you want to incorporate the mini-food theme that kids love, there are several Jewish food's that can be made into mini-appetizers. Pickles, onions, and hummus are all great options to be served in mini cups or on mini plates.
If you want to get a little more creative, matzo balls can be made small and served as a mini-appetizer. Matzo balls are a Jewish soup dumpling and served in soup. It would take a little creativity, but matzo ball soup could be served with a small amount of soup and one matzo ball in each mini bowl or cup.
Falafel is deep-fried balls, patty's, or doughnuts that are made with fava beans, chickpeas, or both. Falafel formed into little balls or patties would be a great mini food.
Don't forget the challah!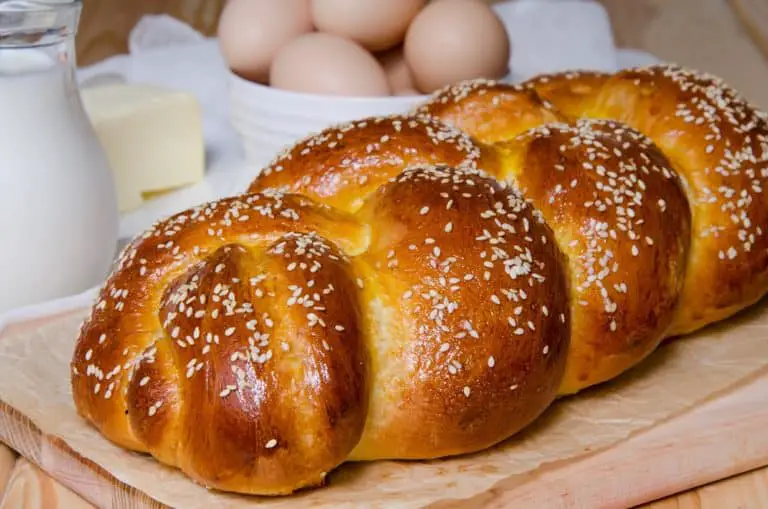 Challah is a special bread that is typically eaten on ceremonial occasions, like a bar mitzvah. Challah is an egg bread that is braided and is a prevalent food that most people want to have on their menu. Typically, there is a motzi prayer at the beginning of the dinner, where you honor family members who say the prayer for the group. Oftentimes you will need to purchase this as a specialty bakery that has a large enough oven to accommodate a 6-10lb challah.
Dessert Bar
There are several desserts that could be served as mini's, from a food truck, or on a bar. Dessert bars are a fan-favorite and would allow you to showcase several different foods. Some unique favorites that have emerged in recent years are donut walls, custom cookies that are decorated to a theme, nitro ice cream stations, cake pops, mini pies, chocolate covered fruit and fruit skewers. Don't forget the cappuccino cart!
Final Thoughts
Planning a bar mitzvah food menu can be stressful. However, if you know what type of bar mitzvah you want to have, what theme you want to go with, and what foods are your child's favorites, you can create a fun and enjoyable experience for everyone.