*This post may contain affiliate links. As an Amazon Associate we earn from qualifying purchases.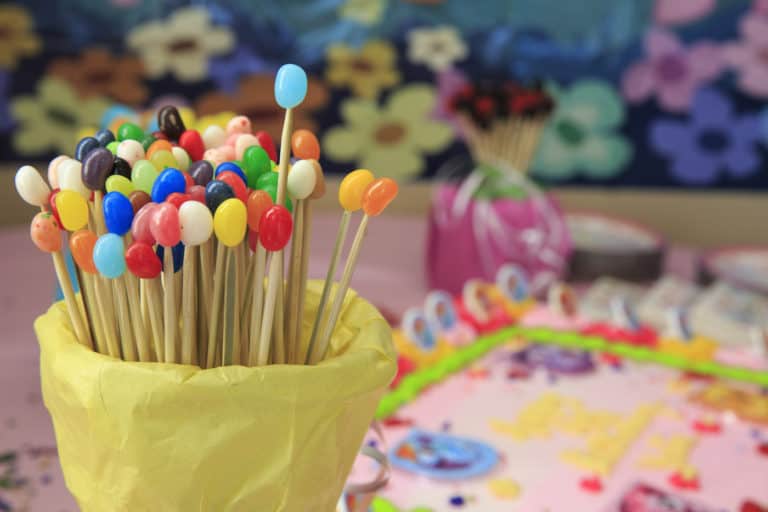 It can be intimidating when figuring out themes for parties, especially for a bar and bat mitzvah theme. Many things are probably going through your brain…
How do I stand out?
How do I have a beautiful event that isn't over the top or over budget?
How do we pick an event that won't be embarrassing to my child's friends? 
How do I make my event unique?
What if my kid doesn't want a theme?
What if my child doesn't play any sports or in any groups at school?
What do I ensure I don't pick something that is the same as everyone else?
The fact is you don't have to have a theme – you can just choose colors or a theme. However, a theme can make decorating much easier and straightforward, as it gives you a road map for decision making.
For example, maybe your child loves to play baseball, so a baseball theme would be an obvious pick.
This leads you to a red, white, and blue color scheme (or the colors of their favorite team), which helps you pick out invitations. Perhaps you'd want to have a play on words for your invitation and incorporate common baseball slang. From there, your décor can be all about baseballs, baseball bats, grass, and beyond. Your menu might consist of ballgame favorites: popcorn, hot dogs, sliders, cotton candy, etc.
Sometimes the bar or bat mitzvah theme may not be obvious to you. Here is a guide to help you and your child connect and brainstorm ideas together.
STEP 1: A conversation about what the party feeling and vibe
The feeling and vibe of the room is a great place to start. Do you want a casual, fun and kid-focused? Upscale, black tie, and formal? What about clubby, cool, and sleek? Interesting, whimsical, and playful? Glamorous, girly, and glitzy? Write down a list of words that summarize the feeling of the event.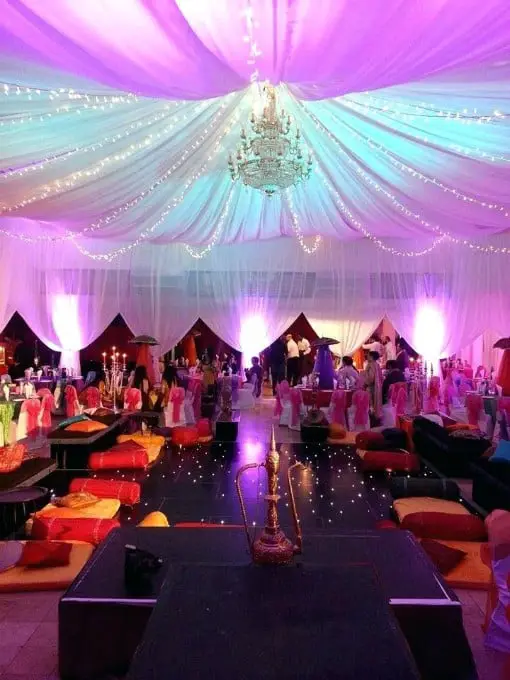 STEP 2: A conversation about hobbies and interests
The best way to start the brainstorm session is to talk to your child about interests them. What are their hobbies, what sports do they like, what do they like to watch on TV, what type of music do they listen to, what do they like to do when they are alone with their friends, what do they talk to their friends about, what is their favorite subject in school, what do they like to eat, how do they occupy themselves during downtime, what is their favorite movie, what makes them unique? It's ok if the answers seem silly – just make a long list.
STEP 3: Talk about colors
Make a list of your child's favorite colors. Pick four or less, and feel free to include colors like silver, gold, rainbow, pastels, or neon.
After you have your lists prepared, now you can start brainstorming the themes that make sense – you may have already come up with it by now! Take a step back and see if any of the words you wrote down can be paired together with a theme, keeping note that colors are also a theme.
Need some more help? Here is a list to get you started. These can easily be translated to party themes for adults, too!
 
Animals, horses, dogs, cats
Balloons
Beach
Camp
Candy
Cards, poker, casino
Carnival, cookout, BBQ
Club, logo
Cooking, baking, cookies, sweets
Color focused – all pink, all teal, etc.
Dancing
Decades, the 70s, 80s, 90s, roaring 20s, Gatsby, hippies, vintage
Disney, theme parks
Fashion, shopping, shoes, designer brands
Forest, wonderland, tree of life
Garden, flowers, garlands, twinkle lights, lanterns, and beyond
Greek, Moroccan, Paris
Harry potter, DC comics, Star Wars
Holiday, winter wonderland, Halloween, costume party, hearts
Logo
Luau
Modern, black and whiteMovies, Hollywood
Music, rock n roll, classic rock, piano
Rustic
Sparkles
Sports, sporting events, sporting entities (NFL, ESPN, etc.)Superheroes
Technology – emojis, apps
Theater, circus, Broadway
Travel – around the world or your favorite city
Underwater