*This post may contain affiliate links. As an Amazon Associate we earn from qualifying purchases.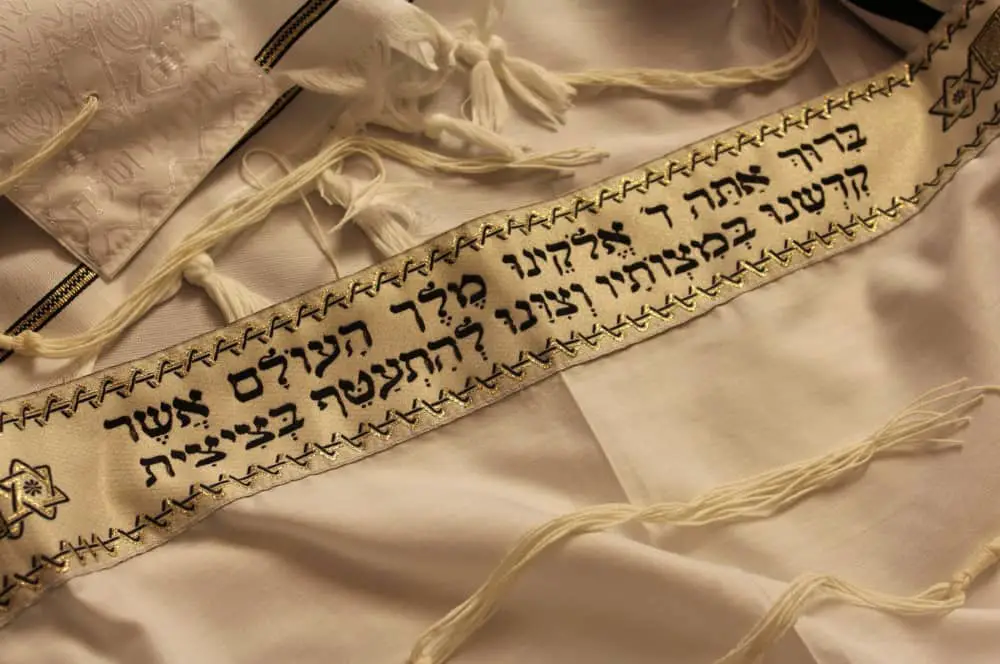 The bar or bat mitzvah is often the first time a boy or girl wears a tallit or prayer shawl. The best tallits fulfill the mitzvah, or command, to wear a garment with four fringed corners. Here's what to look for when choosing a prayer shawl and why choosing one is so important.
Quick NavigationWhat is a Tallit?Types of TallitWhen Do You Wear a Tallit?Who Should Wear a Tallit?What to Look for in a TallitReviews of the Best TallitsTalitnia Virgin Wool Tallit Prayer ShawlBlack & Gold 100% Wool Kosher TallitYair Emanuel Embroidered Raw Silk Lavender Purple Jerusalem Design Tallit, Kippa & Bag SetTalitnia Acrylic TallitBlue & Gold 100% Wool Kosher TallitConclusion – What's the Best Tallit Available?
What is a Tallit?
What is a tallit? A tallit prayer shawl is a garment worn by both men and women during their morning prayers. A Jewish tallit has four corners, and at each corner, there is a piece of knotted fringe.
The four pieces of fringe are spiritually significant, according to Numbers 15:37-40, as "God told Moses 'Speak to the children of Israel, and guided them throughout their generations to make fringes on the corners of their garments."
According to Reclaiming Judaism, the fringes, or tzitzit, are meant to remind people to live a mitzvah-centered life. The prayer shawl itself is intended to be a spiritual home for people, giving you an opportunity to wrap yourself up and spend time in prayer and contemplation. According to Jewish Community Center, wrapping up in the tallit arouses the mercy of God.
The tzitzit on the tallit are spiritually significant and are meant to serve as a reminder to follow God's commandments. According to My Jewish Learning, the numerical value of the tzitzit is 600. Each fringe on the shawl consists of five knots and eight strands, bringing the total up to 613. That figure corresponds to the number of total command in the Torah: 613.
The spiritual and numerical significance of the tzitzit doesn't stop there, though. When each tzitzit is produced, a long thread is wound around the others seven, eight, 11, and 13 times. Seven plus eight plus 11 equal 26, which is the value of the Tetragrammaton, the four-letter name for God or Yahweh.
Thirteen, meanwhile, is the numerical value of "ehad," or one, which is the last word in the first verse of the Shema, one of the two prayers commanded in the Torah.
Types of Tallit
Tallits come in a variety of sizes and can be made from different materials. Traditionally, the prayer shawl was made from wool, but modern versions are often made from acrylic. There are also prayer shawls made from silk.
According to the Jewish law (Shulchan Aruch), the prayer shawl needs to be made of a natural material (like wool or linen) for it to fulfill the mitzvah. But others argue that tallits made from synthetic materials, such as acrylic, also fulfill the mitzvah.
Regardless of whether you end up choosing an acrylic or wool tallit (or even one made from silk), rest assured that the garment would be certified kosher.
Tallits also differ regarding their appearance. The traditional styles are usually white and have blue or black stripes on them. Some even have metallic, decorative stripes this comes from a common Orthodox practice of being 'hiddur mitzvah' or beautifying the mitzvot. You're more likely to see traditional tallits in orthodox communities, according to Jewish Heart.
Modern tallit styles are more likely to be seen in reform congregations. A modern tallit might have a white background, but there are also some styles with more beautiful backgrounds, such as embroidery or silk paintings.
The size of the tallit should correspond to the size of the person and to the way he or she chooses to wear the shawl. More traditional congregations often fold the shawl, draping it over the shoulders or the head, so that it hangs down the back and offers sufficient coverage. Others opt for a smaller shawl, which is simply draped over the shoulders and doesn't cover the back.

When Do You Wear a Tallit?
When a person wears a tallit depends in large part on his or her community. In some Jewish communities, notably the Ashkenazic communities, people do not start to wear a tallit until after they get married.
In other communities, people, particularly boys, begin to wear the tallit from a much younger age. Often, a boy will first wrap up in the prayer shawl at his bar mitzvah. In some communities, such as in Yemen, boys begin to wear the tallit from the age of five, when they first start their education.
Although during everyday life, most only wear the tallit during their morning prayers or Shabbat, the garment is worn all day long on Yom Kippur. It's also worn during services by prayer leaders.
Who Should Wear a Tallit?
There is some controversy over who should wear a tallit. According to Jewish law, women are exempt from wearing the prayer shawl, as they are exempt from following the commands that need to be completed at certain times of the day, since wearing tzitzis is under this category and a Tallit has tzitzis on it women are not expected to wear a praer shawl.
But more and more women are beginning to choose to wear the shawl. There are some arguments against women doing that, though. One case against women wearing tallits, according to Chabad, is that the shawls are traditional male garments and women can't wear the garments of men as is commanded in the Torah (Deuteronomy 22:5).
To work around that restriction against wearing men's clothing, many women who choose to wear a tallit pick out styles that are designed specifically for women. Often, these shawls are made of silk and have pretty designs printed on them.
What to Look for in a Tallit
Here's what to consider when buying tallit sets:
check
check
check
check
check
Reviews of the Best Tallits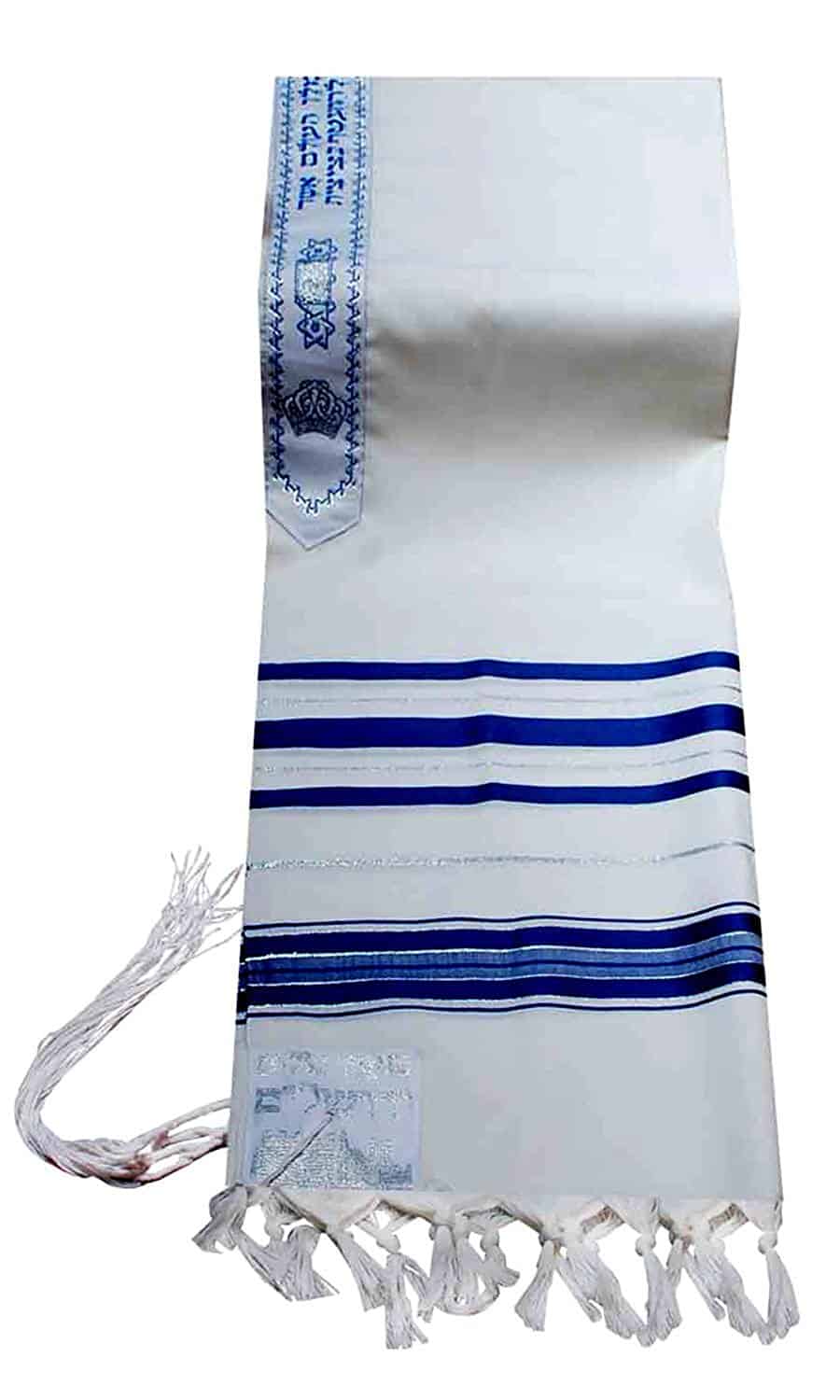 The Talitnia virgin wool tallit comes in a range of colors and multiple sizes, from 18 inches wide by 72 inches long to 59 inches wide by 72 inches long.
One of the best tallits, it is certified kosher and made of virgin wool. It has four white kosher tzitzits in the corners, as well as an Atarah (blessing) around the neckband. The tallit comes with a plastic slipcover.
Pros
Cons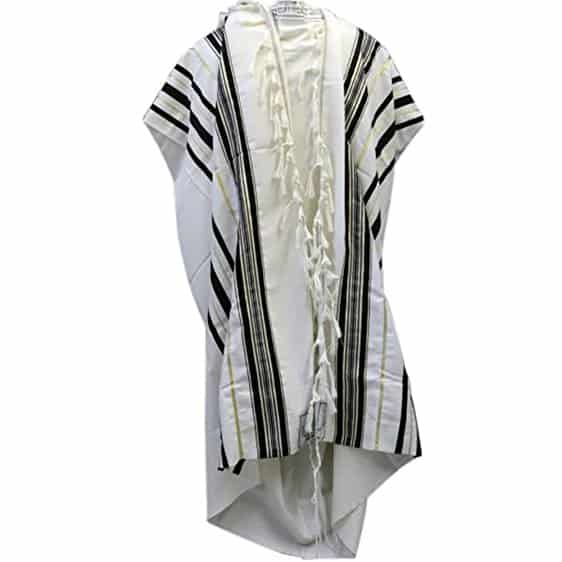 One of our top picks when it comes to the best tallits is the Black & Gold 100 percent kosher wool tallit from mishcan hathelet. The tallit is made in Israel of wool and features traditional black stripes, as well as gold stripes for decoration.
It's available in three sizes, the smallest of which (size "50," or 47 by 67 inches), is appropriate for boys and girls completing their bar or bat mitzvahs.
Pros
Cons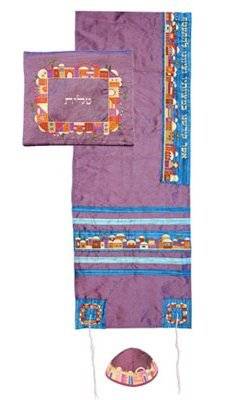 The Yair Emanuel tallit set comes with a kippa (yarmulke) and a storage bag. All three are made of raw silk and feature a pretty design on them. The tallit also has the blessing "…asher kideshanu bemitzvotav vitzivanu lehitatef betzitzit" printed on it, across the back yoke.
The tallit is on the small side, measuring 70 inches long and 16 inches wide. It's meant to be worn draped over the shoulders, not covering the entire body and head.
Pros
Cons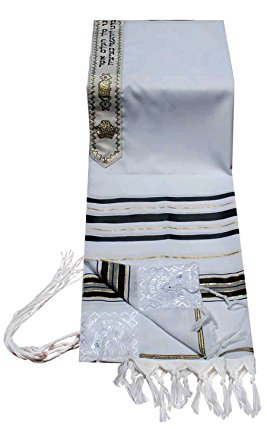 The Talitnia acrylic tallit is very similar to the wool version, with the big difference being the choice of materials. The acrylic tallit also comes in fewer sizes but in more colors, including purple, fuschia, and green stripes.
Like the wool version, the tallit has white tzitzit and a blessing across the neckband. It also includes a plastic slipcover.
Pros
Cons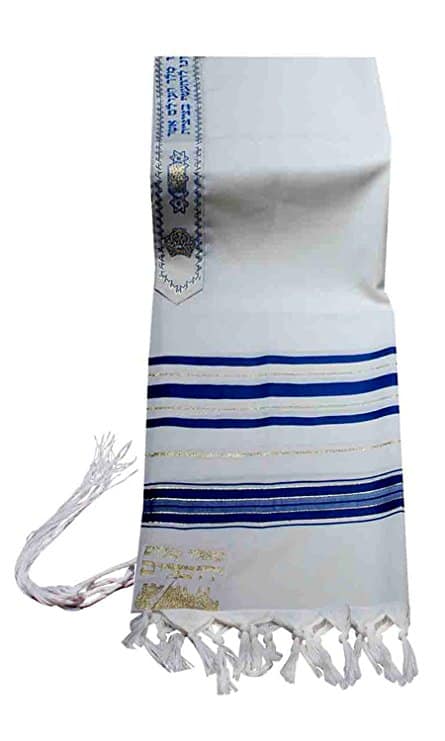 The blue & gold 100 percent wool kosher tallit comes in one size (36 inches by 72 inches) and features a blessing across the neckband. It's a pretty basic and barebones prayer shawl. Either the size and color will work for you or it won't.
Pros
Cons
Conclusion – What's the Best Tallit Available?
If you are looking for a prayer shawl to give to someone for a bar or bat mitzvah or for yourself, you can't go wrong with the Talitnia Virgin Wool Tallit. It's available in a variety of sizes and colors, making it a versatile option. It's also made from a 100 percent wool, making it ideal for people who want a tallit made from natural fibers. Although the tallit only comes with a plastic case, not a more sturdy carrying bag, that seems like a small price to pay.